BASIC Programs for Teaching - a course on program writing
A Practical course of 11 Monday Evening Sessions from 6 - 8pm, 14th January - 24th March 1980 offered by the Department of Mathematical Sciences and Computing at the Polytechnic of the South Bank
When

Jan 14, 1980

to


Mar 24, 1980

Where

London
This course led by Morfydd Edwards and Susan Eisenbach introduced me to the evaluation outcomes of the National Development Programme in Computer Assisted Learning (NDPCAL). Although that project had been at higher education level, the evaluation findings proposed four categories of computer use which might support learning: instructional, revelatory, conjectural and emancipatory. This offered me an early practical analysis to inform my own designs.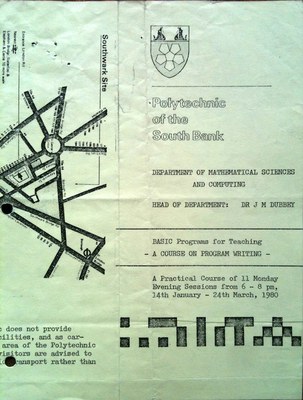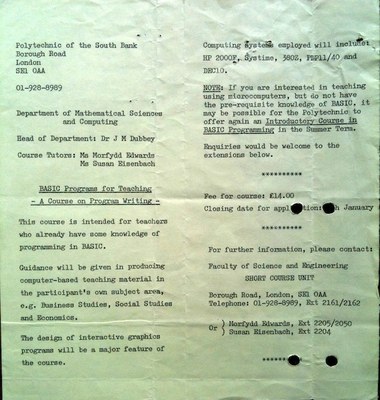 This flyer summarises the course:
"This course is intended for teachers who already have some knowledge of programming in BASIC.
Guidance will be given in producing computer-based teaching material in the participant's own subject area, e.g. Business Studies, Social Studies and Economics.
The design of interactive graphics programs will be a major feature of the course.
Computing systems employed will include: HP 2000F, Systime, 380Z, PDP11/40 and DEC10.
NOTE: If you are interested in teaching using microcomputers, but do not have the pre-requisite knowledge of BASIC, it may be possible for the Polytechnic to offer again an Introductory Course in BASIC Programming in the Summer Term."
The programme of sessions was:
| | |
| --- | --- |
| Jan 14th | Demonstration of some CAL programs and overview |
| Jan 21st | The specification and design of a CAL package I |
| Jan 20th | The specification and design of a CAL package II |
| Feb 4th | The student-machine interface |
| Feb 11th | Designing the control structure of a CAL program |
| Feb 18th | Coding techniques aimed at writing consistent, rugged, understandable and adaptable programs |
| Feb 25th | Computer graphics programming |
| March 3rd | Interactive computer graphics |
| March 10th | The use of CAL packages and the need for teacher and student guides |
| March 17th | Documentation |
| March 24th | Student seminars |
My notes on publications I might read include:
'Introduction to Educational Computing', Rushby, Groom H 1979
'CAL in Science and Maths', Beech
'CAL News', Council for Educational Technology
'Computer Education'
(Words: 415 )