The TUANZ tour
I was invited by the Telecommunications Users Association of New Zealand to keynote each of a series of six conferences in New Zealand for teachers. Each conference was in a different city, covering the length and breadth of the north and south islands. I spoke using the new learning landscape material and also ran a workshop on digital video teamwork.
When

Mar 15, 2003

to


Mar 29, 2003

Where

New Zealand
This was in the lead up to establishing Ultralab South, based in Christchurch. It was my first visit to New Zealand and although prestigious, really hard work.
I developed this diagram based on the Maori flag, superimposed with my interpretation of my learning model expression/evaluation. In the end I didn't use it, but it still works for me!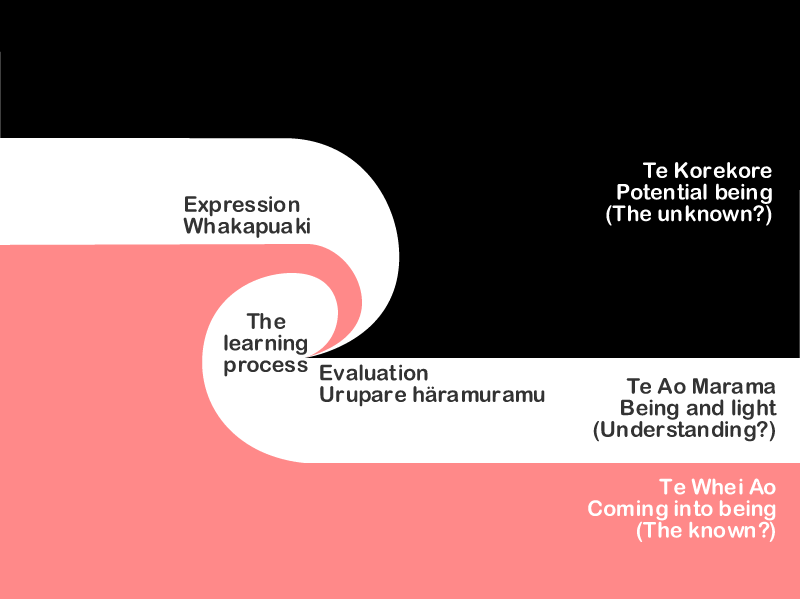 Here is my diary of events, having travelled out there on Saturday 15th March:
Monday 17th March, Wellington
Made a quick visit with Nick Billowes (co-director of Ultralab NZ) to the Ministry of Education to meet a number of people just to say hello. Brief tour of downtown Wellington to get my bearings, say a brief hello to Hēmi Waerea (a future NZ Ultranaut and coming over to UK soon) before being picked up by my friend John Hughes. I hadn't seen John since 1985 when he moved out to NZ with his NZ wife, Gail.  They now have two sons Matthew (8) and Jacob(14) and live in Tawa, a small town outside Wellington. John has done well for himself, working now for ANZ, a large bank, and has recently gained an MBA with distinction - about which he is very proud.  Both he and I studied Maths and Physics at King's College in London, I scraped through but he didn't so it was especially nice to see him succeeding. For dinner we have roast lamb with roast potatoes, veg ( and a roast sweet potato which I forget the name for) - traditional NZ fare. John gives me a lift back to Wellington to sleep in the Portland Hotel - near the Ministry and overlooking the Correspondence School.
Tuesday 18th March, Wellington
I have Breakfast with Hēmi Waerea and with Christine Allot-Mcphee (AKA 'CAM' or the 'Hat Lady' and also a future NZ Ultranaut), before heading off to meet a range of folks at the Ministry of Education to discuss Ultralab plans and current thinking - that put me on the spot!  But luckily I could blether on about Ultraversity plans and future thinking.  Later I meet with Derek Wenham at the Correspondence School which supports the education of large numbers of remote learners around NZ.  He is potentially a future Ultranaut, but I didn't know that when I met him, so I hope he wasn't put off!  Seemed very 'with it' to me. I then meet with Sharon Girvan who works in Trevor Mallard's office (Minister for Education) to discuss her online consultation needs - she has a critical view of online community software and we resolve to give her a chance to find out about First Class at first hand.  Finally we visit Te Papa - the national museum for New Zealand to do a sound and vision check etc for the conference the next day - this also means meeting Rebecca Williams and Ernie from TUANZ (Telecommunications Users Association of New Zealand). Rebecca is the organiser of the series of six conferences at which I am keynoting in cities all over NZ, Ernie is chair of TUANZ, I think. TUANZ is footing the bill for my flights to NZ and all the internal travel and accommodation which is making all the other Ultralab business possible. Finally we retire to a harbour-front restaurant for dinner with both TUANZ and Ministry folk.
Wednesday 19th March Wellington
I have breakfast with Cam (see Tuesday diary!) and explain how she can help with my workshop - we plan to get the participants to create a five minute web-cast at the end of a fifty minute workshop, by splitting them into four groups to manage different aspects of the show.  Cam offers to bring some 'large A4' for backdrops, which means I tease her about NZ A4 size paper.  She also brings coloured post-it notes to use to divide them into four coloured groups.
Ernie opens the conference, Carol Moffatt does a short speech and then I'm on. The keynote goes OK despite the stage being black and the spotlights on - I couldn't see the edge of the stage, so stayed at the lectern - unusual for me, I prefer to be wandering about. The workshop is anarchic but positive - I foolishly make a joke about NZ A4 paper and they make the most fun of it and me that they could. Not much time to debrief, so I say goodbye to Cam and join the TUANZ team, Carol Moffatt and Linda Tame for a flight to Napier.  Linda is the other speaker at the conference and is head of Lincoln School near Christchurch. Napier is a smallish town on the east coast of the North Island - suffered a damaging earthquake in 1931, and so rebuilt mostly in Art Deco style.  We set up for the next day in the conference hall - right on the beach and overlooking the ocean.  It is also a war remembrance location with a flame burning and lists of names in the foyer.  Despite this slightly funeral parlour look, it is a great venue.  We go to a restaurant were I eat a great pile of fish and chips with Monteiths summer ale (flavoured lightly with honey and spice - delicious).  I nearly have fish and chips for dessert, but I'm too full.  The dessert version is 'hokey pokey ice-cream' with chocolate fish - ask Gina, I can't explain!!  I also meet Lorraine Taylor (future NZ Ultranaut) and Nick Billowes rejoins the party.  The hotel we stay in is more like a motel, with sea views over a beachfront lined with Norfolk pines as far as you can see.  I have a spa bath in my room which generates air bubbles - surprisingly effective to ease weary legs.
Thursday 20th March, Napier
After breakfast I plan the workshop with Lorraine while listening to Linda do her talk - we take turns opening and closing the conference.  Lorraine being a primary teacher by background makes her own coloured papers to divide the workshop into groups.  She and Nick both help to run it.  We are operating over the road in the Napier Gentleman's club which according to its caretaker is a unique male bastion in NZ. This is on the same day I read in the newspaper that the Melbourne bowling clubs are no longer permitted to run single sex entry competitions - apparently the current women's cup holder is a man and vice-versa!  The caretaker of the Gentleman's club turns out to be very friendly and allows our mixed-gender group of participants the run of the building, including filming on the billiard table and in the gent's toilet (the only toilet).  He also is interviewed for our webcast.  It is a beautiful building, rather a museum piece.  What a pleasure to meet such nice folks who do everything they can to make it all work.
We have a beer at a bar on the way to the airport with the sun setting and the harbour to look at it feels a lot like Brightlingsea.  I meet up with Greg Adams who wrote a piece about me in the TUANZ magazine (he is the editor) which lead to my old friend John finding me.
We get on the plane to Auckland, watch a beautiful sunset over three volcano/mountains across the North Island as we fly and I chat to Faye who is heading up the CODE (Centre for Digital Excellence?) in Auckland - she is keen for collaboration.
We drive to Waipuna, a conference and hotel complex somewhere in the middle of Auckland ( a big and very spread-out place).
Friday 21st March Auckland
I meet Hēmi Waerea, Nick Billowes, Lorraine Taylor and Sherry Chrisp (another future NZ Ultranaut) in the morning - I do the morning keynote to 450 delegates and then the workshop with a monster 80 or so participants.  All four help me out and it again goes well in spite of LiveChannel choking at the vital moment.  I think everyone appreciates it's about process rather than product and the webcast is designed to motivate a lot of process.  We have some time in the afternoon to chat and get to know each other -it feels like a really good team with a lot of experience, ambition and good will.  After the conference we go to the opening of MultiServe's new building in Auckland.  MultiServe is a trust which services school's ICT and financial needs.  Trevor Mallard, the Minister for Education is to open the new building.  A Maori ceremony starts it off, with a female Maori singer inviting everyone in, to sit in two opposing sides of a room (men to the fore, women at the back). MultiServe's employees (all white men in suits) sit on one side and the guests and minister (all white men in suits) sit on the other. Nick, me and some other men and women stand at the back of the guests' side and other, I guess more junior, employees stand at the back of the MultiServe execs.  After we have all filed in, a local Maori man gives a speech - then a guest replies - all in Maori.  This is repeated, then the minister is invited to speak, which he starts in Maori and then continues in English.  Finally the CEO of MultiServe speaks, then Trevor Mallard pulls a cord to reveal a plaque. The execs on both sides then queue up to breathe each others breath-of-life and we are released to drink some beer and eat canapés.  I chat to a variety of people, have a chance to talk a while with Trevor Mallard in a side room (introduced by Deb Struthers of MultiServe who turns out to be a good egg), get introduced to the CEO of Microsoft NZ, Ross Peat (by Trevor), who hasn't heard of Ultralab (only person in the building, by my estimate!).  I also talk to Liz Butterfield who is researching internet safety issues - she is keen to work with us on raising critical awareness on the part of young people. After all this, Sherry drives me to the airport to fly to Wellington, where John picks me up to stay with him over two nights. Although it's late, he takes me up Mount Victoria which overlooks Wellington - a grand scene at night.
Saturday 22nd March, Wellington
At John's we breakfast on avacado and bacon butties - delicious.  John and family then take me for a walk in the Karori Reserve - a small valley at the back of Wellington where they have built a steel fence all around to keep out mice, rats and possums and they hope to re-introduce native species. It was beautiful, with delightful calling birds, scary 'wetas' and native New Zealand bush - it hadn't really occurred to me that the bare grassy hills you see all over NZ are in fact cleared bush and not 'virgin' hillside.  This nature reserve was one of many such projects around NZ, to preserve and re-establish a more native flora and fauna.  Then we went up to the Wind Turbine outside Wellington - the view was fantastic, all over Wellington Harbour and beyond.  Back into the city to sit on the harbour front, drink latté (very popular to drink coffee all over NZ) and we watch first an aerobatic display and then some dragonboat races - teams from schools and business all over NZ were taking part as well as further afield.  Finally we went out of town to the beach to see (and sea) views over the sound between North and South Islands and to see some of the South Island mountains in the distance.
Sunday 23rd March, Wellington
John and Gail take me out to the coast north of Wellington - Plimmerton beach and beyond.  We travel back through a small valley back from the coast, finding delightful farms and bush in deep ravines - beautiful places.  We stop for a meal at a small restaurant and I have emu-burger. Finally John and Gail take me to the airport to catch a flight to Christchurch. Vince Ham (another NZ Ultranaut and co-director for Ultralab NZ) meets me at the airport and takes me to his delightful suburban house where we beer for a while before going for a drive in his Jaguar. Vince is a respected researcher in the NZ and wider context - his work has influenced government policy and teachers alike and he is quoted and praised for his work at the TUANZ conference by Carol Moffatt and Linda Tame. He and his wife Ronnie (an english lecturer in the college of education) introduce me to the unexpected (to me) mountains to the east of Christchurch - an extinct volcano that creates a natural harbour.  Great views over Christchurch and to the Southern Alps in the distance. Vince puts me up at his house and every other night in Christchurch.
Monday 24th March, Christchurch
Now the second half of the TUANZ tour - the South Island (or mainland) kicks off with the conference in Christchurch town hall.  Fewer here than expected, but good audience and lively workshop with Vince and Nick helping. We visit the Ultralab NZ potential headquarters and then have a chinese meal at Yummys.
Tuesday 25th March, Christchurch
A day to meet with all the Christchurch people associated with the launch of Ultralab NZ. Breakfast with Simon Garrett from Learning Media. After that, the  Christchurch Development Corporation folks are upbeat, but are offering a poor deal on the property we think - something will be worked out.  We do a brainstorm on all the issues to be settled for the launch and allocate people to tasks.  Later we visit the local Maori people, but they are not there due to a diary cock-up - we arrange to see them later in the week. We also go to see Chris Chouy who runs a local education dealership (Infovision) mainly selling Apple equipment. He lets us use his wireless internet and feeds us sushi!  Later I fly to Invercargill with Carol Moffatt, Nicola from TUANZ (chair of their education committee and has taken over Ernie's role for the southern half) and Linda Tame, who has been back to school and dealing with drug smoking boys at their camp!  Invercargill is fairly unexciting, but we have a lovely meal, in my case drinking a delightful local beer made with a subtle passion fruit flavour - excellent. Clearly NZ breweries are not afraid to mess around with beer and create some really interesting flavours.
Wednesday 26th March, Invercargill
The conference is lightly attended and these are the most inscrutable of all the NZers I've met. Nevertheless, keynote fine and workshop not programmed for no obvious reason, so get a lot of work done with Nick in the afternoon.  Later Rebecca drives us to Dunedin via Gore and Balclutha on state highway 1.  On my crummy tourist map it shows a brown trout leaping over some rocks where Gore is - so I jokingly say look out for the giant brown trout (assuming it to be symbolic). When we get there, 'the brown trout capital of the world', sure enough in the town centre is a massive brown trout leaping over some rocks!  The countryside is so like the south of Scotland - only the shape of the fields, the way the sheep get packed together in small fields and the absence of dry stone dykes (stone walls) tells you it isn't.
Thursday 27th March, Dunedin
The last conference!  Dunedin is delightful, sunny and stone built.  We are doing the conference in the town hall with even fewer (60). Everything goes well and I am helped by Ann Trewern (another future Ultranaut). At the end of the conference we rush off to the airport, half an hour away, in order to try and get an earlier flight, but Air NZ very inflexible despite Rebecca's best sulk.  Just had to invade the lounge and work our way through the food and beer.  Finally got away at 7pm and met by Vince at the airport in Christchurch.
Friday 28th March, Christchurch
Meetings with Natcoll, a private college for multimedia, web and graphic design, Maori chaps and Chris Chouy again - mostly to benefit from his internet connection.  After a long day of getting Nick and Vince sorted out for a variety of applications, Nick flys off and Vince, his wife Ronnie and I go to see 'Whale Rider' at the cinema, highly recommended.
Saturday 29th March, Singapore
That's where I am now, trying to force my body to imagine it's 6.30pm on Saturday, when its actually 2am in New Zealand!  Looking forward to seeing everybody on Monday and will take questions then!
(Words: 2922 )