European Network of Health Promoting Schools
Sarah Jones and I were invited to this conference to present on ICT in research in Health Promoting Schools
When

Sep 13, 2004

to


Sep 15, 2004

Where

Copenhagen
Our summary slide: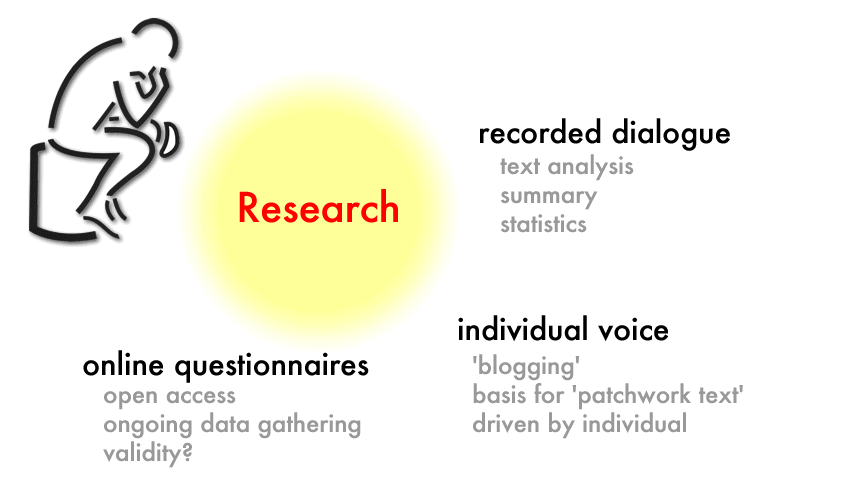 My diary of the event:
European Network of Health Promoting Schools
11th Business Meeting for National Coordinators
Copenhagen
Monday 13-15 September 2004
Sarah Jones and Richard Millwood - arrived about 11.15 in time for coffee
11.30 WHO Strategy for Child and Adolescent  Health and Development, Mikael Østergren, Regional Adviser for Child and Adolescent Health and Research, WHO Regional Office for Europe
- All the interventions needed (for children <5) are known, but not how to make them effectively.
- Developing strategy for piloting in March 2005 in 2-3 countries
12.00 Reproductive Health, Gunta Lazdane, Regional adviser for Reproductive Health and Research, WHO Regional Office for Europe
- Variety in teaching and attitudes to sex education is enormous
- Huge variety in 15 year olds having sex, boys usually outstrip girls except Finland
- Large variety in use of contraception and abortion
14.00 European Master on Health and Education, Bjarne Bruun Jensen, Research Programme for Environmental and Health Education, Danish University of Education
- Title Young People, Culture and Health Promotion: a Learning Perspective
- It is a Masters in Education, so teachers etc, but hope for health people too.
14.35 ENHPS - status and recent developments, Viv Rasmussen & David Rivett,Technical Advisers, Promotion of Young People's Health, WHO Regional Office for Europe
- Need to make programmes work together rather than competing for scarce resources and recognition
Tasks for workshop
- Feedback on Masters on Education
- Situation Analysis questionnaire to gather data
- Input to workshop in November
17.00 Plenary session
Tuesday
09:12 Young Minds - a report from the Budapest Conference, Venka Simovska, Neils Larsen, Danish University of Education
Venka Simovska - overview of web site
- small group of students from a few countries (eight participating schools) working creatively to identify and act on a variety of environmental / societal/ youth / health challenges
- www.youngminds,net
- Content management framework for young people and their teachers
- IVAC approach to organising activity
(Brainstorming)
Investigations, effect, problems, comparisons etc
Visions, dreams, local, global etc
Actions, personal, teogether, politcal etc
Change
(Evaluation)
- Topics addressed included media - noted that Internet sources often showed up inadequacy of TV such as Newsround
- Links made between mental well-being / media / school democracy / environment
- Maslow's hierarchy of needs
- Connection with ministerial conference in Budapest - direct confrontation about local-to-school environmental issues and how, who, when might they be dealt with.
09:40 Neils Larsen - evaluation
- Students applied IVAC approach autonomously to other problems
- 'action' not only as outcome, but also ongoing
- process take time - full school year recommended
- difficult to fit with crowded curriculum, team teaching etc (Denmark no problem, week free for this)
- international collaboration enhanced commitment
- publication to come
10:05 Questions David Rivett Technical Advisers, Promotion of Young People's Health, WHO Regional Office for Europe - pointing out connection to ministerial signed declaration at the 4th Ministerial Conference on environment and Health,  and thus open door to involve youth
10:20 Us!
11:00 - 11:30
11:30 More questions based on identification of opportunities and challenges in relation to online learning communities
12:00 The Egmond Agenda, Ian Young, Programme Manager Schools, NHS Health Scotland
- Main issues discussed in relation to the Health Promoting Schools in partner countries:
Situation analysis, partnership, advocacy, theoretical base, programme content & objectives, long term planning, teacher education, evaluation
- Have partner countries used the Egmond Agenda? if not etc
- Groups to discuss the issues raised
12:30 lunch
(Words: 688 )