EduSummit '11
I was again a participant at this invitation-only international conference held at UNESCO headquarters in Paris. It was designed to address the issues raise in the International Handbook of Information Technology in Primary and Secondary Education.
| | |
| --- | --- |
| When | Jun 08, 2011 |
| Where | Paris |
I contributed to:
EDusummIT: TWG2
Student Technology Experiences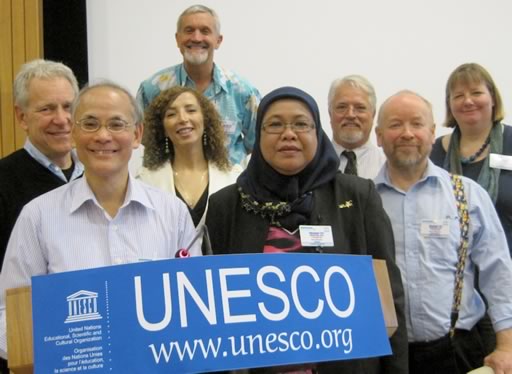 Hall Davidson, Kwok-Wing Lai, Ferial Khaddage, Gerald Knezek, Hajar Mohd Nor, Rowland Baker, Richard Millwood & Christine Bescherer
CALL TO ACTION
10th June 2011
Inspired by the growth of opportunity to learn informally through technology, this group's call to action focuses on the relationship between these new informal learning opportunities and formal learning to maximise benefit to students.
1. Recognition of informal learning

An Action Plan to Create a Policy for Maximizing Student Technology Experiences in Formal and Informal Learning

Create a model policy involving a shared vision with all stakeholders to recognize the importance of informal learning. This policy could be implemented involving all stakeholders, so that it could be adaptable.

This policy would help the adaptation of technology and the occurring change. Re-examining and re-visiting the policy and doing changes as needed.

1.Identify stakeholders.  Stakeholders may include parents, teachers, administrators, administrative board, PTA, students, funding agencies, institutions of higher education, unions.

2. Facilitate a meeting with stakeholder.  The purpose of the meeting is to create a shared vision.  The shared vision should include the relationship between formal and informal learning.  The shared vision should include a plan for professional development.

3.The educational institution should create a Policy on formal and informal learning.

 

Both formal and informal learning will need to evolve to remain relevant to today's digital learner.

[No action defined as yet]

Blend informal and formal education into the school settings. Training for teachers to implement the policy

[No action defined as yet]

2. Motivation for Informal Learning

 

Learning outside school is motivated by influences beyond the school and teacher. This formal learning has something to gain from recognising the range of motivations driving student's informal learning. Paramount amongst these is meaningfulness - the link to real world outcomes and and the learner's self efficacy. This can be harnessed by introducing applied inquiry and problem based approaches to applications which are relevant to students. Other important motivations include curiosity, love of subject, solving problems, mystery, aesthetic pleasure, collaboration, disputation, personal growth, social development, anticipation of future economic success and achievement of recognition. All of these have a role to play in formal learning and can be supported by technology tools.

Action:

Identify a lesson taught in a previous year and create a new assessment rubric based on one of the following:  personal growth of the student, or impact on a social issue, or reinforcement of an item of  cultural importance. economics reasons, cultural factors and intrinsic love of learning.

 

 

 

 

Examples:

Promising practice – 1 to 1 program in Uruguay can move learning outside of school
Promising practice – Model Tech Schools in US include virtual schools where learning extends beyond the traditional school day and traditional school location

Learning should be curriculum-based but allow flexibility.

Action:

Promote intentional technology-based learning activities during out of school time (OST) that are coordinated in school time  (IST)

 

Examples:

Schools that "flip" their day to maximize time with the teacher in an interactive setting http://vodcasting.ning.com/video/the-flipped-classroom

Learning via Application

Action:

Take a student-centred approach

Encourage Inquiry and Problem-Based Learning

 

Examples:

understanding what is behind the technology, how are the colors on the screens converted to digital numbers?

 

Pay attention to the culture of the school community.

Action:

Meet the teachers at their own level
Assess students for readiness
Respect limitations on resources for the local environment
(Identify plans to progress toward goals)
(Target one competency and work toward achieving it)

 

Examples:

 

 

3. Meta-Learning : Promote self-directed learning

 

 

Promote flexibility in curriculum beyond basic skills

Recognize Millennials learn differently from Baby Boomers or Gen-Xers (Whole Brain Learners)

Recognize there is still a need for basic skills

Action:

Create resources to enhance their understanding of informal learning and becoming a self-regulated learner. Example: A folder with multimedia assets for creating a presentation, or video, etc.
Audit students' understanding of their own motivations and learning process - Hawthorne effect (the attention showed by the audit process and the content of the questions asked positively effects the measured outcome) may help them to understand their own formal and informal learning approach. Example: Self-assessment rubric.
Teach students to know themselves, their learning styles, their interests and strengths -- as a means to become self-regulated learners.  Use this by taking formal or informal learning times to takes surveys and self-assessments, and then posting the results for each individual in a group.
Develop recognition and incentives for achievements relevant to becoming productive citizens in society.  These achievements may be extracurricular but they can be given a separate grade/mark.  For example, a student who achieves guild leader status in a massively multiplayer game would be acknowledged.
(Words: 1113 )